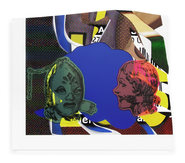 HYBRIDS JOSEPH/BRINKER 2018-2019
Hybrids Joseph/Brinker, 2018-2019.

In 2019 Joseph collaborated with her partner of 25 years Robert Brinker in an exhibition called Hybrids at the Francis M. Naumann Gallery in New York City. The artists also showed their individual work. Although their paintings appear quite different at first encounter, the works have many of the same concerns. They both use collage and the computer as a starting point to work out their initial ideas. They also share a love of process and color that includes the layering and exploration of materials. The Hybrids contrast figuration and abstraction in ways that could not have been accomplished individually.
---
---
---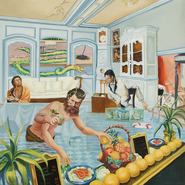 VENUS TRANSIT SERIES 2009-2012
Venus Transit Series, 2009-2012.

The paintings from this series, The Venus Transit, juxtaposed art historical references with popular culture. The paintings are concerned with societies' disregard for the environment, animal rights, the power of women, and the conflicts in our society, approached with a sense of humor. A recurring subtext in my work is the violence behind facades and the element of fate and chance in our lives. Many of the elements in Dragon's Gorge such as the woman on the tractor, the dynamic sky and the dragons, were images I discovered when we visited China in 2007. Venus Transit was an astronomical occurrence that happened in the spring of 2012. This rare phenomenon transpires when Venus goes in front of the sun and creates a black dot. When this happens, the female- male relationship will become more balanced and a strong feminine side will emerge that will help restore harmony in our world.

---
---

LA MADONA DESNUDA 2003-2004
La Madona Desnuda, 2003-2004.
(The Naked Madonna, 2003-2004).

"La Madona Desnuda," an exhibition at Sala Barna Gallery, Barcelona, Spain, 2004.

---

CHERCHEZ LA FEMME 2003-2004
Cherchez la Femme, 2003-2004.
(Roman Calendar Girl Series, 2003).

"Cherchez la Femme," an exhibition of works on paper at the Hervé Lourdel Gallery, Paris, France, 2004.
---

PUSSY MARSHMALLOW COMIC BOOK COVERS 2001-2003
The Adventures of Pussy Marshmallow, 2001-2003.

Pussy Marshmallow is the star attraction in the Sideshow of The Absurd. She can lift Max The World's Largest Housecat over her head while balanced on her toes. She is the artist's alter-ego and Shero.
---

PAM-O-RAMA 1995-1997
Pam-O-Rama, 1995-1997.
"Pamela Joseph's work is richly layered amalgamation of medium and artifacts. She draws, paints, and pastes on or over objects and pictures culled from the detritus of American popular culture of the 50's and 60's.....continues...
---
---

METAL PAINTINGS 1975-1988
METAL PAINTINGS, 1975-1988.

"This "Space-Age" formation, a giant crystal of elbaite tourmaline by Pamela Joseph, is "totally unique in its conception, execution and in the utilization of the materials of modern technology."

-The Katonah Gallery,
Arts Weekly, Acorn Press, December 1987.