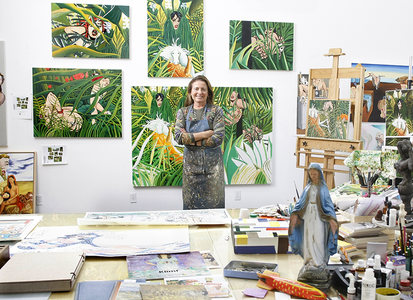 Pamela Joseph is a multi-media artist who has exhibited nationally and internationally, in locations such as Paris, Barcelona, and Beijing. Her work has been described as "well-executed, powerful and edgy" by the Colorado Council on the Arts, who awarded her a Visual Arts Fellowship in 2001. Joseph was subsequently selected as a Visiting Artist at the American Academy in Rome 2003 and 2004.
Her work is concerned with feminist critique and socio-political issues. Hers is a world upside down, but rendered with a sense of humor and optimism. Throughout her career she has explored these conceits in drawings, paintings and sculptures and in the hybrids created by their overlapping techniques.
A highlight of her work includes her interactive multi-media installation The Sideshow of the Absurd, which has traveled to over ten museums and galleries around the country. This contemporary carnival is about the power of women, fate and chance in our lives and the violence behind facades. The exhibit challenges our notions of difference and tolerance. A short film on the Sideshow of the Absurd premiered at the Aspen Film Festival in 2015 and was shown at film festivals worldwide. The film was awarded Best Short at the Williamsburg Indie Film Festival, The Gold Award at the Atlanta Shortsfest and Best Animated Short at the Santa Fe Film Festival.
https://www.youtube.com/watch?v=9OAA15Fx46Q
She has been represented by Francis M. Naumann Fine Arts in New York City since 2007. In 2019 she collaborated with her partner of 25 years Robert Brinker on combined works called Hybrids that were shown at the Naumann gallery. Other solo shows were the Censored Series where any nudity of reproductions in art books from Iran in famous works by artists such as Picasso, Matisse and Duchamp has been covered with black lines or pixilated. DoppleHouse Press published a book, The Artist, The Censor and The Nude, A Tale of Morality andd Appropriation in August 2017. Francis M. Naumann has written the Foreword and art historian Glenn Harcourt has written an essay on the work with an accompanying section discussing Contemporary Iranian artists. Another solo exhibit was Wunderlust in 2009 at the Naumann gallery. In 2004 there were exhibits entitled La Madonna Desnuda in Barcelona Spain and Cherchez la femme at Galerie Herve' Lourdel in Paris France.
Joseph's work was in two group shows in Beijing, China in 2007. One exhibition, Insatiable Streams, celebrated the ten year anniversary of The Institute for Electronic Arts at Alfred University and opened at Zero Field Art Center in the 798 Art Zone. The second exhibition, Duiying-Yingdui, Corresponding & Responding, was shown at The National Art Museum of China, and involved a dialogue between Chinese and American artists. A 2011 reciprocal exhibition at the University of Colorado Art Museum, in Boulder included Chinese artists.
Currently she is working on creations that are headdresses/masks, inspired by strong women personalities. The constructions are composed of a variety of symbolic images including flowers, birds, and architectural elements. The paintings consist of Plexiglass layered with acrylics, oils and mixed media transfers. Her drawings are incorporated as well. The Headdress series is a reaction to a previous group of 35 portraits where she painted bondage masks onto photographs of Trump and his cohorts. The Goddess headdresses are a positive catharsis to this negative investigation.
Joseph is represented by:
Francis M. Naumann Fine Art
24 West 57th Street, #305
New York, NY 10019
212.582.3201
info@francisnaumann.com
www.francisnaumann.com