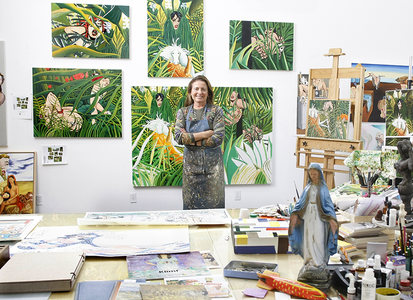 Pamela Joseph is a multi-media artist who lives and works in Aspen, Colorado. Her paintings and sculptures address ideas of feminist critique and socio-political issues with a sense of humor and historical incisiveness. Her work was described as "well-executed, powerful and edgy" by the Colorado Council on the Arts, who awarded her a Visual Arts Fellowship in 2001. She was subsequently selected as a Visiting Artist at the American Academy in Rome in 2003 and 2004. Francis M. Naumann Fine Arts in New York City represented Joseph from 2007 until the gallery's closing in 2019.
Highlights of her work include The Sideshow of the Absurd a large-scale interactive multi-media contemporary carnival that has travelled to over 10 locations in the country and was most recently on exhibit at the Colorado Springs Arts Center. A short film is available to stream on YouTube at https://www.youtube.com/watch?v=9OAA15Fx46Q&t=4s.
Also The Censored Series of paintings addresses the obliteration of any nudity by famous artists in art books produced in Iran. Images from "Censored" are featured in The Artist, the Censor and the Nude: A Tale of Morality and Appropriation (DoppelHouse Press, 2017).
Joseph has exhibited nationally and internationally in locations including New York, Los Angeles, Paris, Barcelona, and Beijing. Her work is in the collections of the Fort Wayne Museum of Art, Fort Wayne, Indiana; Colorado University Art Museum, Boulder; the University of New Mexico, Albuquerque; the National Art Museum of China, Beijing; the School of Art and Design at Alfred University, Alfred, New York; Fairfield University in Fairfield, Connecticut; the General Services Administration and Henry Schein Inc., New York among others.
Most recently she exhibited bas-relief sculptures of mask/headdresses called
Radical Beauty at the Michael Warren Contemporary in Denver.
An interview
with Juxtapoz magazine about the exhibit is at
https://www.juxtapoz.com/news/sculpture/radical-beauty-mask-veils-headgear-pamela-joseph-michael-warren-contemporary-denver/?utm_source=leadBarContent&utm_medium=direct
She was recently in a group show, Lifetime Artists at the McNichols Civic Center in Denver where her alter ego Pussy Marshmallow, the Strongwoman Cat Girl from the Sideshow is on display.
November 2021