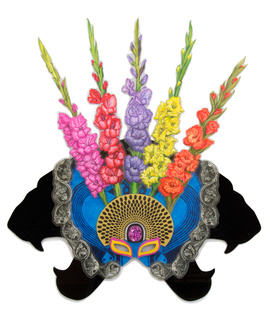 MASK HEADDRESSES 2019-2021
" Live where you fear to live. Destroy your reputation. Be
Notorious."
Masks, Veils and Headgear
May 2021

Masks and headdresses are powerful symbols in a wide variety of cultures and groups. By putting on a mask and becoming someone else, the participant enters a world exploring power, identity and gender.

In 2019 I began creating sculptures of mask/headdresses to explore the positive power and happiness of the carnival in our lives. Originally inspired by strong women personalities, I began to realize that these disguises have far greater significance than one gender or meaning. As our lives were over taken by the pandemic, the masks began to have an even greater significance of protection and resilience. My sculptures are an exploration of beauty as radical thought. In the context of the carnival, they are used to celebrate joy in life and special occasions.

Drag queens with their fabulous make up and disguises create masquerades about gender identity and consistently challenge what being feminine means. In masquerading as women the queens question what defines femininity, is being female defined by biology or is it something that is fluid and can be worn like a costume.

African artists and tribes have long used masks and costumes to commemorate birth and death in their relationship to the cosmos and the environment. For the Mayan Indians mask/headdresses were symbols of their gods and a physical way of representing spirits and intimidating their enemies. Mardi Gras Indians with their colorful suits and headgear reflect both their vital musical history and their attempts to express painful social dynamics. Inherent in all these different cultures there is a liveliness and abandonment to the joyous existence of the present moment.

Each sculpture uses a variety of symbolic images such as flowers, birds, and architectural elements. They are painted on layers of plexiglass with acrylics and mixed media transfers that incorporate my drawings. They celebrate both our history and our future.
---
---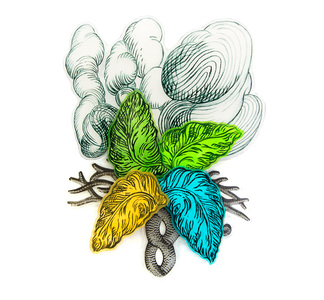 A NETWORK OF OFFSHOOTS 2021
April 2021

While working on the mask/headdresses, I often have leftover parts that don't work in a piece. I have combined these remnants in a series of small sculptures called " A Network of Offshoots."